News
Stories
HR's Rising Star: A Q&A with Sarah Tabassum
Sarah Tabassum can often be found welcoming new employees to our Centre (she's welcomed 500+!), and keeping employees engaged. She has worked at the MTCC for 8 years, starting as an intern and rising through the ranks to her current role of People and Culture Manager.
Recently, Sarah was recognized as the only Canadian recipient of the 'Rising Star' UKG Insiders Awards. On behalf of all of us at the MTCC, congratulations Sarah!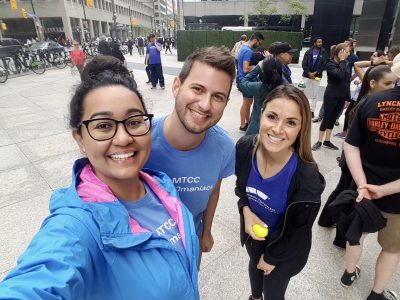 Q. What does winning the UKG Rising Star Award mean to you?
This recognition is a proud moment not just for myself but my entire team. UKG is a leader in HR and workforce technology, and technology is key for improving the candidate and employee experience. The pandemic forced us to think outside the box and the timely solutions provided by UKG continue to be extremely beneficial for our team.
Q. What is your proudest career moment at the MTCC and why?
My career progression from an Intern to my current role and leading the Centre's talent acquisition efforts. My job allows me to meet new people every single day and play a significant role in their career journey and that is what motivates me to always put my best foot forward.
Q. How would you describe your experience working in Human Resources at the Centre?
Rewarding from day one! I didn't know where this adventure would lead when I joined as an intern, but I dove headfirst and never looked back. My team plays a significant role in making each day an exciting one filled with new learning opportunities.
Q. What do you like best about working at the Centre?
The Centre is a learning organization through and through. This is reflected in how we continuously create and transfer knowledge, and the credit goes to the people of the Centre!  I'm lucky to be surrounded by such a diverse group of subject matter experts. Each team member takes pride in sharing their knowledge but also in learning from one another. That speaks to the collaborative culture we have here.
Q. What advice would you give someone looking for employment at the Centre?
Apply and let's connect! We are proud of the wide range of opportunities we have at the Centre that caters to various interests, skills set, experience and professions – there's something for everyone. We also present various career pathways that allows candidates to create their own career journey and taking on different internal growth opportunities.
Q. What is your favourite event to attend at the Centre?
It's been a team tradition for us to attend the annual National Women's Show together and because it falls on a Friday, it's such a wonderful way to wrap up the week but above all a great team bonding session!
For more information on career opportunities at the MTCC, click here.