News
Press Release
Metro Toronto Convention Centre Launches New "Multi" Ad Campaign
Toronto, ON: The Metro Toronto Convention Centre (MTCC) announced today the launch of a new ad campaign "multi" created to tell the story of multiple reasons why the facility stands out as a top choice for meetings and event planners. The campaign reflects the centre's strong position in the business events marketplace and its unique location in the heart of a multicultural, thriving destination.
Developed by The Turn Lab, a Toronto-based marketing agency, the campaign represents a new, contemporary direction for the MTCC's advertising strategy. It was designed after months of research to motivate planners to want to know more, and to make an important connection between the facility and the multi-virtues of the world-class destination it is proud to call home.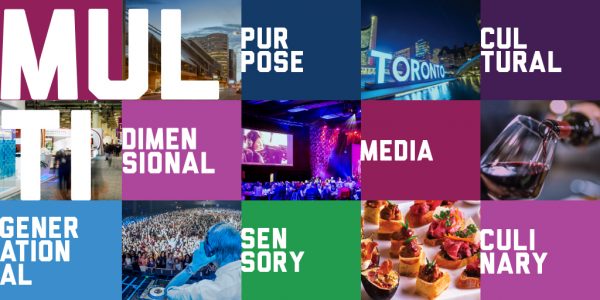 The latest Watkins Research report on the needs and views of meeting planners recently recognized Toronto as one of the top-ranked meeting destinations in North America. The Centre's location, in the heart of Toronto's downtown, continues to be preferred by meeting planners from around the world.
"The campaign reflects the essence of Toronto, and everything the MTCC and the city has to offer; cultural richness, culinary diversity, unmatched hospitality and the boundless opportunities for business and events", said Christine Tse, Director of Marketing at the Metro Toronto Convention Centre. "The multi campaign reflects the current Toronto vibe and positions the MTCC as the place to be".
"The multi campaign was the outcome of key insights that revealed an authentic connection between a multicultural and multidimensional city like Toronto and how its richness has both inspired and informed the first-class services at MTCC", said Howard Chang, co-founder at The Turn Lab.
-30-
About the Metro Toronto Convention Centre
The Metro Toronto Convention Centre is Canada's number one convention and trade show facility. Over the past 34 years, the Centre has hosted over 20,000 events and has added $6.3 billion in direct spending economic impact to the community. For further information, please visit www.mtccc.com.
Media enquiries:
Melanie Wade, Social Media and Communications Specialist
Metro Toronto Convention Centre
T: (416) 585-8504
E: mwade@mtccc.com