Toronto Among Top-Ranked Destinations Selected by Meeting Planners
The latest Watkins Research Group report on the needs and views of meeting planners recognized Toronto as one of the top-ranked meeting destinations in North America. Toronto is new to the list, which rates the most positive overall experience for major conventions.
Curt Watkins, principal at Watkins Research, recently stated in Convene Magazine that the top-ranked cities made it on the list in part because they listened well to the changing needs of the meetings market and reacted with purpose. According to the report, listening, consistent proactive communications, providing solutions and going above and beyond for meeting planners are among the things our city is doing right to sustain a top position in the competitive business events landscape.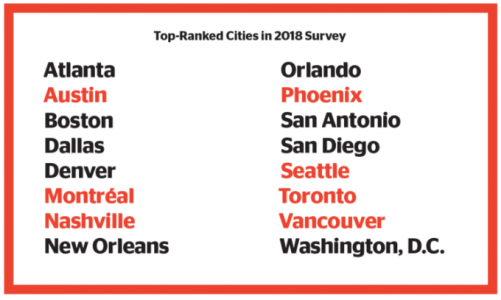 To be ranked as a top destination, cities were evaluated in the following categories:
Has hotels that are suited for largest meetings
Is easy to get to
Is safe and secure
Great all around convention city
Has superior convention centre facilities
Has easy accessibility within the city
Has superior convention centre services
Has superior CVB/DMO
The Watkins report recognized three Canadian destinations, including Toronto, as top choices for meeting planners. The report is a testament to the strength and momentum of the business events industry in Canada.